Settling A Car Accident Claim Without Insurance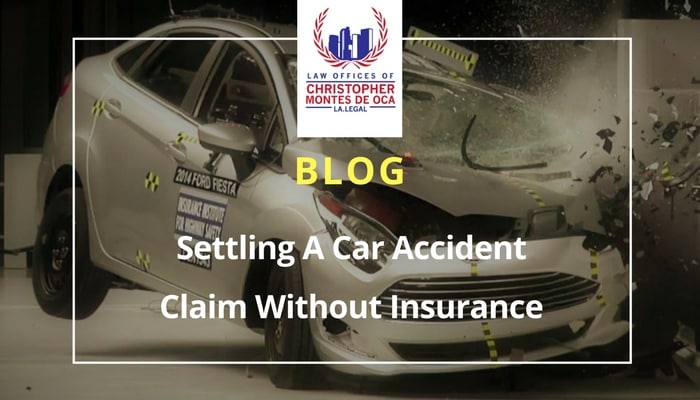 While it is illegal to operate a vehicle without minimum liability car insurance in the United States, many drivers do so. So what happens if you are involved in a car accident when you have no car insurance and how do you go about settling?
There are certain steps one must follow to settle a car accident even without insurance:
1. At The Scene Of The Accident
Never leave the scene of an accident without first checking on the other driver/s involved in the collision and exchanging personal information. You need to provide your name, address, driver's license number, contact details and license plate number and get the same information from all other parties involved.
2. Report The Accident
Don't take it for granted that another person will report the accident. Go to the nearest police station as soon as possible (after being seen by a medical practitioner to determine if you have sustained injuries) and report the accident. Remember to get a copy of the report.
3. Determine Who Is At Fault
This is where settling a car accident without insurance can get messy. Nobody is readily going to admit that they are at fault and neither should you. A car insurance company will normally investigate the accident to determine who is at fault. Your police report can help identify who is at fault. The party who is found to be at fault will be liable for settling expenses related to the accident. Get witness statements and take photo's of the scene to help prove liability.
4. Get Quotations
You can claim for or be asked to pay for medical expenses related to injuries resulting from the accident as well as damages to other vehicle/s or property. Make sure that you receive or get at least three quotations that can you can compare with for the repair of the damages or even the replacement of a vehicle that has been written off due to the accident.
5. A Settlement Agreement
Once you have determined who is at fault and what expenses need to be paid, draw up a settlement agreement detailing payment terms and conditions. This is a legally binding document that will ensure that the liable party pays for damages and medical expenses as agreed upon by all parties involved in the accident. Each party should sign the agreement and have it notarized to make it legally binding.
6. Document Everything
Keep copies or originals of all written communication between all parties. Try to keep verbal communication to a minimum or record conversations.
7. Contact An Attorney
Should none of the parties admit fault or agree to settle, it is highly recommended to contact an attorney specializing in the field of personal injury law and auto accidents. An attorney will be able to defend you if a civil claim is entered against you or help you determine how to claim for your expenses.
If you have entered into a settlement agreement but the payment terms and conditions have not been met, it is also recommended to seek legal advice.
Schedule Your Free Consultation With Our Personal Injury Lawyer
Christopher Montes de Oca is an experienced personal injury lawyer in Los Angeles. Chris is recognized as a "Super Lawyer Rising Star," a recognition that only 2.5 percent of lawyers receive, because of the exceptional results he has seen and his dedication to his clients. Chris services clients throughout Los Angeles, including Echo Park, Maywood, Long Beach, Whittier, Glendale, La Mirada, Pico Rivera, Hacienda Heights, and Alhambra. Call him today for a free consultation at (562) 901-4664.