Important Evidence to Collect for Your Personal Injury Claim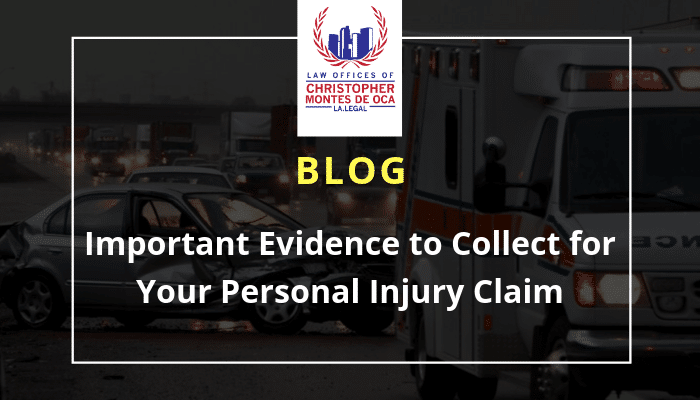 If you've been involved in an auto accident or sustained any kind of injury caused by someone else's negligence and intend to file an injury claim, it is important to collect and preserve evidence to support you in your case. The first hours and days after the injury are crucial for evidence collection.
Here are a few steps you can take to make sure you've got the evidence you need to be successful in your case.
Collect and protect any existing physical evidence
Physical evidence should be collected as soon as possible after the injury, or otherwise preserved. If you're unable to keep the actual object in question, you should take photographs that you can later use as evidence. Examples of photograph subjects could include the damage done to a vehicle, a patch of ice on a sidewalk, a broken stair or handrail, or just about anything else that caused an injury or can demonstrate the severity of the accident.
When taking photos, make sure you get them from several different angles so you can select the best options to present to your insurance company. Get photos as soon as you can so you can be certain they represent the conditions of the accident site at the time of your injury.
Documentation of injuries
You should also be sure to photograph and document any injuries you sustained in your accident. Take pictures of visible cuts, bruises, swelling, or marks, as well as any bandages, splints, casts or other medical devices you had to use as a result of the injury. Keep a written log of all injuries and types of medical care received. This is especially important for injuries that might not be as visible, such as deep tissue injuries, joint injuries and traumatic brain injuries.
It can be helpful to get records from the doctors who provide your medical treatment as well. These medical records act as unbiased accounts of not just the kind of medical care you've had to receive, but also how much it's all cost you.
Witnesses
Witnesses can be extremely valuable in personal injury cases, because they can add unbiased support to your claim when you might have little additional evidence available to you. Even if the witness did not actually see the accident that led to your injury when it occurred, they may still be able to provide useful accounts of what happened in the time leading up to or immediately after the accident.
Make sure you collect the names and contact information of all witnesses who were at the site of your accident, as well as a general account of what they saw so you know whether or not they'll be helpful to you in your case. You can then provide this information to your legal team and your insurance adjuster, who will make sure to follow up with any questions they have.
Schedule Your Free Consultation With Our Personal Injury Lawyer
Christopher Montes de Oca is an experienced personal injury lawyer in Los Angeles. Chris is recognized as a "Super Lawyer Rising Star," a recognition that only 2.5 percent of lawyers receive, because of the exceptional results he has seen and his dedication to his clients. Chris services clients throughout Los Angeles, including Echo Park, Maywood, Long Beach, Whittier, Glendale, La Mirada, Pico Rivera, Hacienda Heights, and Alhambra. Call him today for a free consultation at (562) 901-4664.