How Much Can I Expect to Get from a Burn Injury Settlement?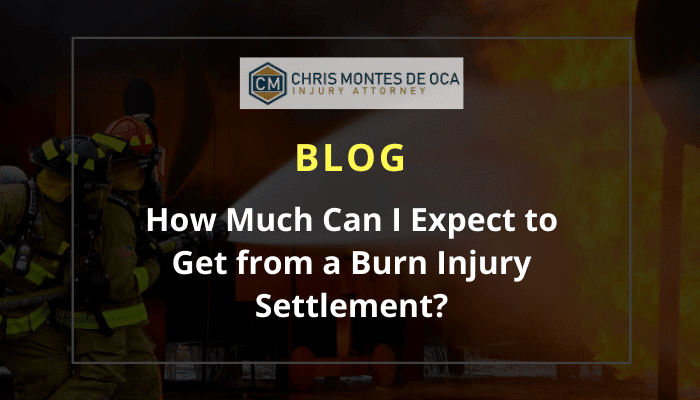 When you've suffered burn injuries, you may be able to recover damages via a personal injury or worker's compensation claim. How much you can recover will depend on the specific details of the incident and how severe your injuries are. Your personal injury attorney will be able to evaluate the facts of your case and give you a general range—but here is a general overview of how damages are calculated.
Types of Burn Injuries
There are three general types of burn injuries. The more severe your injuries, the more you can expect to recover—but even mild burns can have serious repercussions depending on their location, the age of the victim and their other medical conditions.
1st degree. This is mild burning that doesn't require medical treatment and heals after a few days.
2nd degree. Second degree burns can include fluid leaking, skin loss, blistering and significant pain; medical treatment is advised.
3rd degree. This type of burn is the most severe and requires emergency medical treatment. Skin might turn white, brown or black as tissue is destroyed; permanent scarring may result.
Causes of Action
Personal injury. Personal injury cases can encompass a number of different sub-causes of action, including general negligence and product defect. Your attorney may decide to bring more than one claim.
Worker's compensation. If your accident happened on the job, you're entitled to file a worker's comp claim. Each state has their own system, which is designed to compensate for lost wages and medical damages associated with the injury.
Types of Compensation
When your attorney is negotiating a settlement, their goal is to find an amount of money that will "make you whole" or return you to the state you were in before the accident—inasmuch as that is possible. They'll take your medical costs into account, as well as the specific results of the accident. For example, if you were severely, permanently disfigured, you'll likely recover more money than someone who was out of work for a month with a less serious burn injury.
Medical bills and associated costs. You are most likely to recover damages for your medical bills and other associated costs, such as lost income due to your injuries.
Emotional pain and suffering. Since burn injuries often result in permanent disfigurement, there is a significant amount of emotional distress involved. Damages for emotional pain and suffering take into account the severity of the injury, the location and the likelihood that the plaintiff has or will suffer depression, anxiety, embarrassment and other chronic negative effects.
Punitive damages. Punitive damages are rare—you will probably only be able to recover them when the person or entity at fault was found to be grossly negligent. This is a matter of public policy. The idea is that the defendant acted in such a manner that they need to be "punished" monetarily so it won't happen again.
Schedule Your Free Consultation With Our Personal Injury Lawyer
Christopher Montes de Oca is an experienced personal injury lawyer in Los Angeles. Chris is recognized as a "Super Lawyer Rising Star," a recognition that only 2.5 percent of lawyers receive, because of the exceptional results he has seen and his dedication to his clients. Chris services clients throughout Los Angeles, including Echo Park, Maywood, Long Beach, Whittier, Glendale, La Mirada, Pico Rivera, Hacienda Heights, and Alhambra. Call him today for a free consultation at (562) 901-4664.