How to Establish Liability in a Fire Accident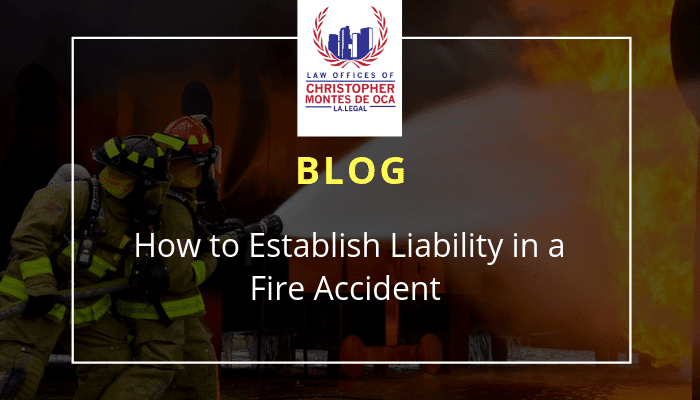 Fire, whether wild or accidental, can wreak havoc upon a community. The amount of damages, injuries and fatalities each year is staggering—the United States suffered 3,400 deaths and $2.3 billion in losses from fire damage in 2017 alone. When an accident occurs, you'll want to establish liability so that you can be compensated by whomever is at fault. But how do you do that?
Common Causes of Fire Accidents
First, it's important to know what the common causes of fire accidents are. The most common examples include improperly functioning electrical outlets, gas leaks, exposed or faulty wiring and dryer fires. In private homes, cooking is a major cause of residential fires.
All property owners, private or commercial, are obligated to inspect their property for these and other hazardous conditions, and to inform their guests of any potential dangers.
Who Can Be Held Liable?
Who can be held liable for a fire accident claim depends on a number of conditions. For example, a wildfire started by lightning is not the fault of the property owner in and of itself—but if they property owner had fire hazards on their land and failed to remove them, a person may be able to sue for negligence.
Sometimes the circumstances of the fire accident allow for a plaintiff to seek compensation in other ways. Electrical fires could be found to be the fault of the electrician who wired the building, or the fault of the building owner if he or she did not due their due diligence during regular inspections.
Intentional fires—arson—is always the fault of the person who intentionally started the fire, and they can be held liable for not only criminal arson charges, but also insurance fraud and a host of other claims.
Generally, when seeking compensation for a fire accident, if a plaintiff can prove negligence, courts will award equitable damages—that is, damages to pay for loss of property, medical expenses or other associated costs that resulted from the fire. Each state has different laws governing what a plaintiff can recover, so I recommend setting up a consultation with a lawyer as soon as you are able.
Premises Liability Claims for Fire Accidents
If you've been a fire accident victim on someone else's property, you may be able to sue the owner on the basis of premises liability. In California, premises owners are required to maintain and inspect their property and remove all hazardous conditions. If they do not, you may be able to sue under a claim of negligence.
For example, you may be able to prove negligence in a premises liability if you can prove the property owner lacked proper functioning smoke detectors or sprinklers, a lack of fire extinguishers within reach, proper fire exit systems and/or adequate signs or mapping in the building.
Typically, your lawyer would have to prove that the defendant or property owner's actions caused the damage, they were aware of the unsafe conditions but refused to repair them and that those conditions persisted for such an unreasonably long time that the owner should have known about them.
Schedule Your Free Consultation With Our Personal Injury Lawyer
Christopher Montes de Oca is an experienced personal injury lawyer in Los Angeles. Chris is recognized as a "Super Lawyer Rising Star," a recognition that only 2.5 percent of lawyers receive, because of the exceptional results he has seen and his dedication to his clients. Chris services clients throughout Los Angeles, including Echo Park, Maywood, Long Beach, Whittier, Glendale, La Mirada, Pico Rivera, Hacienda Heights, and Alhambra. Call him today for a free consultation at (562) 901-4664.