What Is Negligence In A Car Accident In California?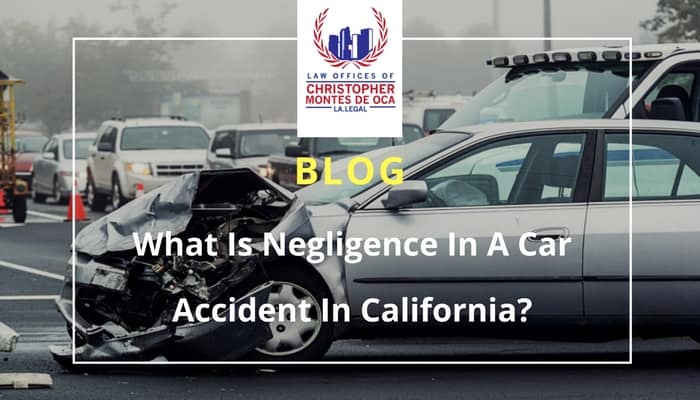 California ranks among the top states in the United States for auto accidents and fatalities. That is due to its vast highway and road network. Negligence is a leading cause of car accidents in California. Negligence can be due to the part of the vehicle driver, equipment manufacturer, or other entities. The vast majority of these accidents result in personal injury lawsuits. The plaintiff should prove without any doubt that the cause of the accident or injury was the negligent behavior of the defendant. This article provides information on what is negligence in a car accident in California.
What Is Negligent Behavior?
There is a high number of auto accidents due to negligence amongst the 350,000 users of some of the busiest highways in California. People behind the wheel today are prone to distractions due to many reasons. When such distractions lead to accidents, they are categorized under negligent behavior. They can come in many forms such as talking on a cell phone, listening to music, adjusting the sound equipment, texting, using a GPS unit or computer, being sleepy or tired, talking with other passengers, and many other mental activities. You can miss signs of certain road hazards when you are not paying attention when driving. On the other hand, other drivers can break road laws by making sudden turns – which you can easily miss when you are not paying attention.
The driver should act according to a reasonable measure of care to avoid accidental injuries to other people and damage to property. Although negligence is attributed to actions in most cases, it can include omissions in some instances such as:
Duty Of Care – Drivers, should exercise a reasonable amount of care to avoid accidents to other people. They must foresee potential problems and act with caution to avoid injuries and harm to other people and property.
Breach Of Duty – The driver fails to pay full attention to his or her driving skills, road condition or traffic laws in this instance. This could result in a breach of duty to take reasonable care when driving the vehicle.
How Could Negligence Affect Your Settlement?
If the plaintiff shares a portion of negligent behavior in an auto injury case, the award or settlement will be reduced by that portion of negligence in California.
Comparative Negligence is when both parties share part of the responsibility of an auto accident. Driving schools teach drivers to drive defensively. For example, if the plaintiff notices another driver moving across lanes but decides to overtake that driver anyway, and meets with an accident, both drivers will be assigned partial responsibility for negligence.
Contributory Negligence is when the injured person shares any part of the responsibility for the injury, he or she may wind up with no compensation since they have contributed to the accident.
You have to prove negligence to win a personal injury case. A reliable personal injury lawyer can help win a car accident case where negligence is a key element. That is why you need to choose the best personal injury lawyer in the area.
Schedule Your Free Consultation With Our Personal Injury Lawyer
Christopher Montes de Oca is an experienced personal injury lawyer in Los Angeles. Chris is recognized as a "Super Lawyer Rising Star," a recognition that only 2.5 percent of lawyers receive, because of the exceptional results he has seen and his dedication to his clients. Chris services clients throughout Los Angeles, including Echo Park, Maywood, Long Beach, Whittier, Glendale, La Mirada, Pico Rivera, Hacienda Heights, and Alhambra. Call him today for a free consultation at (562) 901-4664.