What You Must Prove to Find Success in a Traumatic Brain Injury Case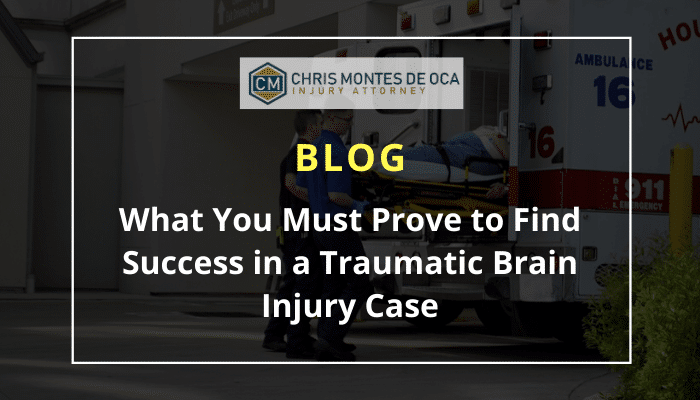 The U.S. Centers for Disease Control estimates around 1.5 million Americans will sustain a brain injury each year. The causes of these injuries vary from car crashes to workplace accidents, from sports injuries to injuries caused by violent attacks. No matter the cause, the effects of brain injuries can be drastic, including severe concussions and long-term brain damage.
If you or a loved one suffered from a brain injury caused by another person or entity's negligence, you may be entitled to seek compensation through a personal injury lawsuit. Here's what you should know about bringing such a claim.
Proving negligence in a traumatic brain injury case
In any type of negligence claim, the person bringing the lawsuit (the plaintiff) must be able to prove the defendant was at fault for the accident or incident that resulted in the injury.
The process of proving brain injury cases can be difficult, because brain injuries can be more difficult to detect. In addition, the science of brain injuries and concussions is still very much in flux—while we know much more about brain injuries than we did even just a decade ago, we still do not know nearly as much about the brain as we do about other parts of the body and other types of injuries.
It is crucial that the plaintiff and his or her legal team is able to collect as much evidence as possible about the nature of the brain injury. This means not only being able to prove that the defendant acted with negligence (such as disobeying rules of the road in a traffic accident), but also being able to compare the plaintiff's physical and mental state after the accident to his or her physical and mental state before the accident.
If you have any reason to believe you may have suffered a brain injury in an accident, you should seek medical attention immediately. Doctors sometimes will be able to find symptoms of brain injury before they physically manifest themselves to the point where you notice them yourself.
It is common for people who suffer brain injuries to experience memory loss with regard to the events surrounding the injury, so if you cannot recall details, be honest about this with your attorney and find other ways to gather information about what happened.
Schedule Your Free Consultation With Our Personal Injury Lawyer
Christopher Montes de Oca is an experienced personal injury lawyer in Los Angeles. Chris is recognized as a "Super Lawyer Rising Star," a recognition that only 2.5 percent of lawyers receive, because of the exceptional results he has seen and his dedication to his clients. Chris services clients throughout Los Angeles, including Echo Park, Maywood, Long Beach, Whittier, Glendale, La Mirada, Pico Rivera, Hacienda Heights, and Alhambra. Call him today for a free consultation at (562) 901-4664.